Sausage Cheese Balls
3 cups Bisquick (110362 Bisquick)
1 lb uncooked sausage (110540 roll sausage 1lb, Tennessee Pride or Jimmy Dean)
4 cups shredded cheddar cheese (111936 shredded cheddar cheese, 5lb bag)
½ cup parmesan cheese (110483 parmesan)
½ cup milk (110455 whole milk)
½ tsp rosemary (110727 rosemary)
½ tsp parsley flakes (110742 parsley)
Barbeque sauce if desired (112125 Country Bob's, 112348 Sweet Baby Ray's, 110212 Kraft BBQ, 110213 Bulls Eye BBQ, 111014 KC BBQ)


Heat oven to 350. Lightly grease bottom and sides of a 9x13 baking dish.
In a large bowl stir together all ingredients except barbeque sauce, using hands or spoon.
Shape mixture into 1-inch balls and place in pan.
Bake 20 to 25 minutes or until brown. Immediately remove from pan. Serve warm with sauce for dipping.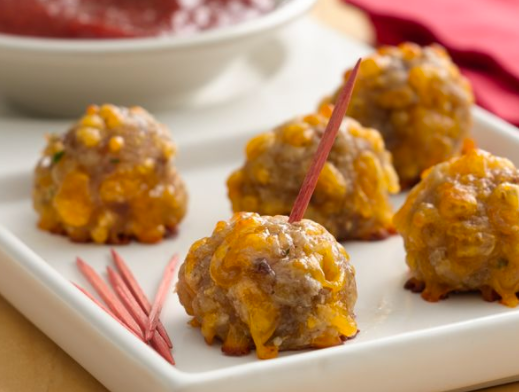 (click to see larger image)
This recipe can be found on the Betty Crocker website at: http://www.bettycrocker.com/recipes/sausage-cheese-balls/6a2a7890-c685-4991-b699-743fd880486f